Scream (1996) (R)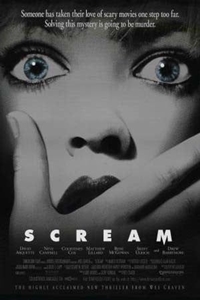 Synopsis: The sleepy little town of Woodsboro just woke up screaming. There's a killer in their midst who's seen a few too many scary movies. Suddenly, nobody is safe, as the psychopath stalks victims, taunts them with trivia questions, then rips them to bloody shreds. It could be anybody... Sidney, the quiet high school beauty with an ugly past... Billy, her faithful boyfriend with a frustrated sex life... Tatum, her cute best friend with a answer for everything... Casey, the lovely blonde who knows her thrillers... Geeky Randy, the scary movie fanatic... Stuart, the wild partier... Gale, the overeager TV reporter... even Dewey, the syrupy-sweet police officer. The only hope is to stay one step ahead of this crazed slasher--know your trivia. The clues are there; are you good enought to see them?
Genre: Suspense/Thriller /Horror
Runtime: 01:40
Starring: Drew Barrymore, Roger Jackson, Kevin Patrick Walls, David Booth, Carla Hatley, Neve Campbell, Skeet Ulrich, Lawrence Hecht, Courteney Cox, W. Earl Brown
Release Date: December 20th, 1996
Amenities Key:
* "No passes" indicates that there are no discounts, promotional passes or complimentary passes accepted due to film company restrictions (rain checks are accepted).